Aditional services
Why should you worry about anything?! Let us offer the following complimentary services to make your stay even better…you decide what to add!

TRANSPORTATION
( Round Trip Transportation
Central Truck or Airport )
You'll be greeted as Queens upon your arrival!
Luxury unit with A / C. Choose between a van or sprinter.

Includes driver who will receive you at the airport, duly identified with our logo.

Transportation from the airport to the hotel arranged through Bride's Squad. Refreshing towels and bottles of cold water included.

Return to airport based on the previously provided departure schedule.

Ask for our night transportation service. (Tips not included)

JUST RELAX
We arrange for you and your squad relaxing massages, either in the comfort of your apartment or the spa of the chosen hotel.

Welcome / farewell dinner
Puerto Vallarta is the second city, after the Mexican capital, which has the largest gastronomic variety in the country. For this reason Bride's Squad organizes welcome and farewell dinners for you and your crew in three of the best restaurants in the bay. We want you to enjoy the destination with this culinary adventure with a special three-course menu (starter, main course and dessert) and enjoy a welcome drink in any of these three places.

La Leche
With a unique style, minimalist design and character of its own. The interior design proposes a monochromatic atmosphere where every guest can awaken their senses by interacting with a vibrant, stimulating full course meal in a space conceived as white canvas, wich will be intervened by chef´s Alfonso Cadena´s kitchen an his guests.
Free shirt for the Bride To Be!
La Vaca Argentina
The best meat cuts in Puerto Vallarta. Excellent option to go for dinner before going to the nightclub (right next to La Santa).
Barcelona Tapas
Dinner between tapas, wines and the incredible sunsets of Vallarta in the Spanish restaurant with "The Best" view of the bay. (Tips not included)http://barcelonatapas.net/

PERSONAL CHEF
If you prefer not to leave the comfort of your stay, Bride's Squad offers you the services of a professional who will prepare the meal courses necessary during your stay. We have several menu options, we will take care of the purchase of the supplies and the chef will prepare the dishes. Bon appétit!. (*Tips not included)

* Ask for our seafood dinner at the Icon beach with extra charge.

PERSONAL GROCERY SHOPPER
We know you want to arrive and have everything ready to enjoy.We´ll do the grocery shopping for you, so upon your arrival, you´ll find everything you need to spend an incredible weekend. Just send us your list specifying brands and quantities. At check-in, the amount will be charged based on the purchase ticket + 20% service charge.

SAY WHISKY - UNDER THE SEA
Say Whisky
To capture every moment of this trip and to live memories that you will treasure over the years, we offer you photo sessions - Under the Sea - for you and your squad, taken by professionals.
Ideal for those who purchase the All Aboard package, as the photographer will accompany them on their yacht tour, from the moment you board even aquatic shots are available in this package.
More than 100 photographs can be delivered both above and under the sea.

Sent electronically so you can share them on your social networks.

Sayulita (6 hours):
Round trip from and to at your apartment or hotel on a private non-stop transportation (1 hour one way and 1 hour back) taking you to Sayulita, Riviera Nayarit's chic hippie beach and a favorite of Hollywood celebrities.
It includes:
Sun beds reserved for 4 hours at the famous Don Pedro's restaurant to rest and enjoy at this incredible beach, whether sunbathing or why not?! taking surfing lessons or stand up paddle board in Luna Azul (next to Don Pedro's).

Includes food to choose from: chinese vegetables, hamburger or shrimp tacos.
Yelapa (6 hours):
Discover the hidden paradise with the most pristine beaches of southern Jalisco in this magical place.Relax your senses, enjoy nature and feel the music with your support squad at Chico Yelapa, the only boho chic style beach club. http://chicosyelapa.mx/.
It includes:
3 hours of round trip boat ride in yacht.

2 hours to enjoy the beach club.

1 hour of water activities.

Fish or chicken tacos + 1 cold coconut.

Additional consumption with a 10% discount for being a Bride's Squad.
*Package available by purchasing All Aboard yacht at extra cost.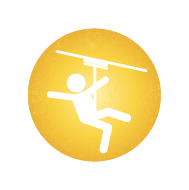 If you like the party but also love the adrenaline. We take you to zip-lining with your Squad to one of the best parks in Puerto Vallarta located just 20 minutes from downtown.
The tour of 3 and a half hours includes:
Round trip transportation (Marina Collage meeting point at 9:50 am).

11 zip-lines waiting for you.

Pack of 10 photos.

Tequila Experience: Tasting of 8 tequilas with a free bottle for the group.

Lunch Included Menu:
- Fajitas (vegetarian, chicken, meat, shrimp or fish)
- Quesadillas (Natural, chicken, meat, shrimp)
- 1 drink (free menu choice)